"How to open a blog" looks simple when looked at blindly. However, when you dive into the world of WordPress, you will realize that it is more complex than you originally thought. This is a situation that many beginners find themselves in and can direct beginners to search for an alternative platform for their website.
Although opening a WordPress blog site requires some knowledge, it is not that difficult when you learn the steps. Even if you do not know how to open a blog, you can achieve professionalism from scratch without being quickly lost under the lead of a detailed guide on this path.
In this guide, we will explain why blogging is important, when WordPress is the right choice for your blog, and we will help you build your own WordPress site! Let's start.
Before we begin, let's talk about our campaign! If you can't wait to start your blog adventure, you can open your blog site at Hostinger using this special discount. With 30 days money back guarantee!For Limited Time – 58% Discount When Opening Your Blog Site. Redeem coupons
Benefits of Opening a Blog Page
When to Choose WordPress for Your Blog Site?
What Do You Need To Open Your Own Hosted WordPress Blog Site?
(In 7 Steps) How to Open a Blog with WordPress?

1. Install WordPress on Your Hosting Service
2. Change WordPress's Default Settings
3. Choose an Appropriate WordPress Theme
4. Install Some Basic WordPress Plugins
5. Write and Share Your First Blog Post
6. Customize Your Site's User Experience
7. Plan Your Next Steps
Benefits of Opening a Blog Page
Opening a blogging site is a versatile activity that can sharpen your skills as an author, marketer and developer, and is even a networking and online business project. Such skills in every field allow you to gain more experience, reach more customers and higher rates on each criterion.
For example, take a look at our case analysis . By establishing a blog targeting a unique niche, he made a five-digit business by making money with small offers. Then he sold it for a nice amount. Here are five common ways to make money by starting a blog:
Advertising: Traditional advertisements and sponsorships.
Affiliate program marketing: The commission you earn when you sell someone else's product.
Digital products: Create and sell electronic books, add-ons, apps, courses and more.
Physical products: Books, events, classes, products and more.
Services: Development, design, consultation, coaching, writing and more.
No matter what field you work in, it will be useful for you to learn how to open a blog. Some of these benefits are brand recognition, website building experience, and an opportunity to meet your interacting community. All this is important for beginners and developers.
In fact, we have already published several ideas on how you can earn additional income using WordPress . Some of these are direct shipping, setting up an e-commerce site, providing commercial advice, selling websites on Flippa , selling stock photos and selling e-commerce books. It can be useful to learn how to open a blog in all these areas. With a blog site, you can start operating in these trading areas.
In short, learning how to open a blog will earn you a lot of money in your budding career and can even help you generate additional financial income. As a next step, let's take a look at whether WordPress is suitable for your blog site.
If you don't know what to blog about yet, don't worry. Most successful blog sites have tried different approaches and topics before reaching their purpose.
Our advice is, hit the road and never look back!
When to Choose WordPress for Your Blog Site?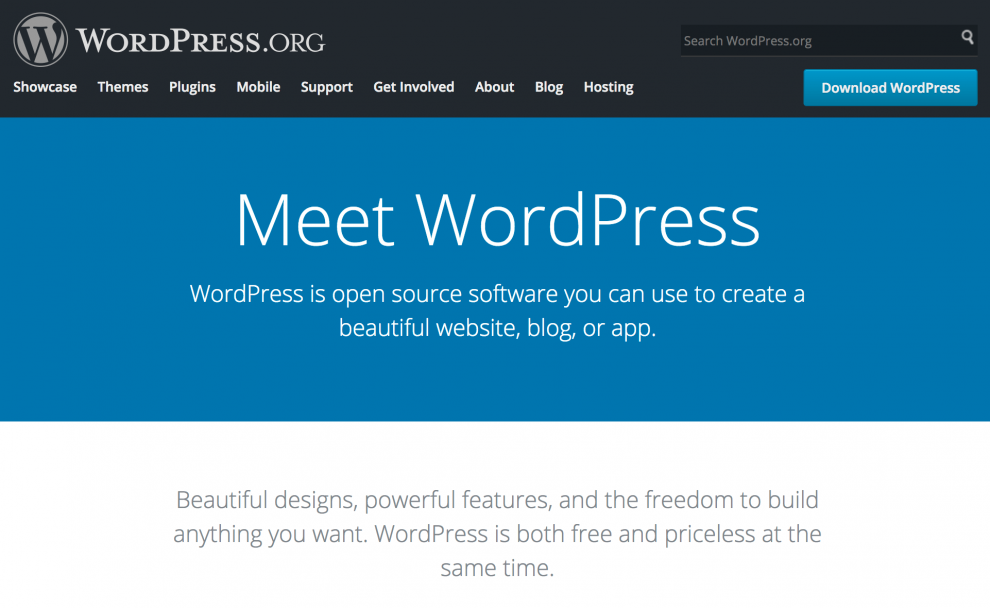 By strengthening the infrastructure of 60% of CMS websites and 29% of all websites, WordPress is the most popular content management system today . It was founded in 2003 and has been constantly improving itself and expanding its community since its foundation.
If you want to sell digital or physical products, give online lessons, earn advertising income or set up a smooth payment system for your customers; WordPress provides several solutions. Many free alternatives can be found in the WordPress.org Plugin Directory , though some are paid . In fact, most of the popular plugins have become the need to run a website properly. Moreover, these basic plugins are supported by some key players in WordPress. WordPress is always behind you when  using WooCommerce ( let's not add that it's free), or the simple email newsletter subscription form with MailChimp , which is the biggest help when setting up an online shop .
If WordPress's long-lasting, standard solutions don't affect you, it's a good idea to review what it means to use open source code. When you use managed SaaS (Software as a Service), you give up your ownership and control over your content and data. By hosting WordPress yourself, the content is entirely yours. This means that no one can charge you for the software and force you to upgrade to special software. What's more, you have full control over how you want to change it in the future. WordPress is offered with a GPLv2 (or newer) license published by the Free Software Foundation .
In addition, thanks to the large ecosystem built around WordPress, you can take advantage of open source and hire talents to improve your site. If you want to try and tamper with yourself, you can achieve this with helpful community support.
When talking about tampering, using open source solutions like WordPress means you have the software. WordPress continues to grow and publish advanced development tools such as REST API & WP-CLI . This means an increased possibility of developing more advanced applications with WordPress.
As a result, if you want the option for unique development, learning and community; WordPress is the ideal option. You will have full ownership of your work and you can turn your blog site to (almost) anything you can imagine.
The best part is that you can install all these blog platforms with one click at Hostinger!
What Do You Need To Open Your Own Hosted WordPress Blog Site?
WordPress is an open source platform available for download at WordPress.org for everyone . Here you can find open source themes, plugins, documentation, developer blogs and support forums.
But; Another well-known website is WordPress.com. This is a managed WordPress hosting solution provided by Automattic . Automattic's founder, Matt Mullenweg, was also one of the original founders of WordPress. While WordPress.com is an ideal service for some; If you want full ownership and authority over your blog, it is not the right choice for you.
Hosting your own WordPress blog requires some preparation. The software is free and open source, but where will you install it? How will people reach? You will need the following for these:
Domain name
Copy of WordPress
Most web hosting providers (like us!) Provide free domain names along with their services . For this reason, we recommend that you start by choosing the right hosting company. Focus on aspects that make your life easier, such as daily backup, one-click WordPress installation and the previously mentioned free domain. But; PHP developers will also request features like PHPMyAdmin supported, File Transfer Protocol (FTP) for file management, scheduled tasks for automatic updates, and Secure Shell (SSH) access for server management.
With the right mix of features, you can quickly set up and publish your WordPress blog. Of course, we would like to emphasize that all of these should be on an affordable plan and not burn your pocket. When you choose your blog topic, domain name and hosting company, it is time to create your WordPress blog by learning how to open a blog.


As Hostinger, we have developed our server infrastructure extensively over the years to provide the best blogging experience.
With the specially designed Hostinger control panel , you can set up the blog site on any platform with just one click. If you need help, our web experts will be available 24/7 for your help.
Use our special discount coupon for a new start and get online instantly!For Limited Time – 58% Discount When Opening Your Blog Site Redeem coupons
(In 7 Steps) How to Open a Blog with WordPress?
In this step, you have now chosen WordPress as your platform, purchased your domain name and hosting service and are ready to set up your website. All it takes is to open the WordPress blog site! Here you can find the detailed start-up tutorial with WordPress in seven steps.
1. Install WordPress on Your Hosting Service
Usually, most hosting providers have an auto installer that you can access from your control panel. Although there are different permutations, they all follow the same simple steps.
First, log into your hosting control panel and then go to Website> Auto Uploader .
Find the WordPress application using the search section on the next screen, or click on its icon in the Most Popular section.
When you click on the icon, a new page will open and you will be asked to fill out a form. The fields you need to fill in are simple and when you are finished, click the Install button to start the installation process.
That's it! If you want to install WordPress manually, you can use WordPress's famous 5-minute installer . A short summary of how you can do this yourself:
Download WordPress.
Create database and full privileged database user in your hosting account.
Upload the rooted WordPress file on your domain's hosting account.
Run the WordPress installation codes by visiting the URL of the site where you upload the files.
Follow the steps on the screen and it's done!
When WordPress installation is complete, the next thing to look at is the default settings.
If you order a web hosting plan for 12 months or more, .com for the first year ; .net ; .org ; or .xyz .
2. Change WordPress's Default Settings
It comes with a number of default settings that you may want to change based on your WordPress needs. These settings determine how your blog looks and works. We are sure that you will want to change your slogan, as most default settings may be suitable for you. It means that you will have to play with these settings now and not have to deal with them in the future.
First, log in to your WordPress admin panel. Continue to Settings> General, where you can find a number of settings . Start by checking your default site title and slogan. You can also edit them here even if you have selected them during installation. These should be organized in a way that includes your blog's name and a descriptive slogan for your blog:
In the next step, review the language and time period of your site. If you are blogging a language other than Turkish, select the appropriate language ( more than 70 languages ​​are available ). It is also important to choose the right time frame. The time frame will affect the time of your WordPress posts appearing on the site and when the timed posts will be published.
Finally, review the date format options. Different formats can be used in different regions. So consider your target visitors. For example, an American audience would expect to see m / d / Y (month / day / year), while international audiences expect to see d / m / Y (day / month / year).
When you are done with the changes, click the Save Changes button. Then visit Settings> Discussion to enable / disable comments or ban some keywords in comments . You can also decide here whether you want to receive email notification for comments. Which option is best for this will vary depending on how much time you want to devote to moderating comments. It is recommended that you frequently manage comments when creating your user base. We also recommend disabling feedback and trackbacks that send notifications to linked blogs:
Similarly, you must save your changes before proceeding to Settings> Permalinks . In the permanent links section, you can choose what kind of form you want your links to be. In terms of search engine optimization (SEO), we suggest you choose any one other than Straight . The Post name option will probably be the best since short and memorable URLs are better .
When you choose the permanent link format for your blog site, click the Save Changes button to save it. Now it's time to give a suitable design to your blog.
3. Choose an Appropriate WordPress Theme
The next step is to choose a suitable WordPress theme. (Do not go through our list of the top 30 free WordPress themes .) The theme is a template that determines your design and lies at the core of WordPress. You can change themes at any time. So if you can't decide which one to start with, don't worry too much, you always have a chance to change.
However, it would surely be best if you can find a theme that suits your needs right from the start! Here are a few things to consider when choosing a theme for your WordPress blog site:
Responsive (adaptable to all devices) design is mandatory!
The theme should work well in all browsers and support should be available for major WordPress plugins.
If you plan to open a blog site in another language, the theme should be ready for translations.
Check if there is a forum where users of the theme can get a quick response.
Clean code is important for SEO; verify demo code to make sure .
Experience says the best. For this reason, it is a good sign that the theme has high scores and good comments.
Now that you have learned these points, you can find the theme that best suits your needs in WordPress Theme Directory . Once you find the theme, revisit your WordPress admin panel and continue to View> Themes> Add new .
In the search box, type the name of the theme you want to find and use in the WordPress Theme Directory. When your theme appears on the screen, move the mouse cursor over it and click the Install button.
When the installation is complete, click on the Enable button.
Your theme should now be established! Alternatively, if you found a WordPress theme elsewhere (for example, a premium theme from a developer's website), you can install the .zip file for that theme using the Install Theme button on the Add Theme screen . At this stage, you can activate your theme as usual .
When you choose your theme, you will want to customize your layout. We will come to this, but we recommend that you first look at adding new features to your website.
4. Install Some Basic WordPress Plugins
Every WordPress developer has a list of plugins that must be installed. In short, these plugins expand the capabilities of WordPress. The best and most basic plugins are open source and free. For example:
Plugin installation is similar to adding a new theme to WordPress. To get started, visit Plugins> Add New from your WordPress admin panel .
Then search for the plugin you want.
When the result of the search appears, click the Install now button. When the message Loading … is complete, you will see the Activate button, which you need to click on to use the plugin on your blog .
You can repeat this process to install all the plugins you need. Once you have installed all of your add-ons, you can start writing and publishing the exciting part!
5. Write and Share Your First Blog Post
Now that you have prepared your basic tools, it is time to create and publish content for your site! It is important to do this at this stage for several reasons. First, you will have an idea of ​​how everything will look on your site with real content. Its pearl, you will not be able to post your message to the world. Finally, it is to remember that your site will always be under construction. You can spend the rest of your life to customize your site and think it will never be perfect. Content should always be a priority.
Here is a simple guide to writing your first blog post :
Select the subject of your blog post.
Type the title that contains the keyword you want to appear on search engines.
Outline your post using subheadings that divide your post into several sections. The introduction should be supporting and concluding sections.
Write your article! Give links to external sources and mark sections for media such as videos, images.
Keep buttons like commenting, communicating or subscribing at the end of the post.
The length of your post is not very important. So use as many words as you need to convey your message. The result should be informative or entertaining. It should somehow add value to the reader.
When you write your first post, you will want to add it to WordPress. You can start this process by visiting the Posts> Add New section of your WordPress admin panel . First, add the title of the article to the Title section and place your content in the large area below.
You can then add the picture, video or other media to your post using the Add Media button. After uploading your file, click the Add to Post button.
If you have installed the Yoast SEO plugin, you can also customize the meta description . This is the short description that appears on search engines. That's why it's important to do it right. You can set them by clicking the edit code snip button.
Finally, you can be sure that your article looks good using the Preview button. If everything looks good, share your article on the internet using the Publish button. If you don't want your post to be shared yet, you can use the Save as draft button.
So you posted your first blog post! Now that you have completed this post, you can continue to optimize the user experience for your visitors.
6. Customize Your Site's User Experience
At this stage, you are almost ready to share your content! However, you can make a few final changes to officially improve everything as much as possible before launching your site.
Customizing your website will usually be around the theme. Most themes support a few simple settings, while some allow additional settings to be customized. Ideally, you should have chosen the theme that best fits your needs right from the start, but having these options at your disposal is more used and will allow you to create a unique website.
Continue to the View> Customize section of your WordPress admin panel to access the customization interface . This will load a screen that will show a preview of your site. On the left you will find a list of options.
It is important to note that each theme may have different options. We recommend starting with options such as color, background and font to make your theme as compatible as possible with your brand. Some themes even allow you to upload a logo. Site ID and Colors inspect the parts.
Then you may want to configure a special menu. To do this, find the Menus section of the customizer . If you haven't created a menu yet, click the Create new menu button to get started . Here you can add articles, pages, categories and even custom links to the menu. In the Menu locations section under the menu, you can check the corresponding box to make sure the menu appears as the main menu.
Feel free to experiment with Customizer until your site preview looks great. When you are ready, you can click the Publish button to apply the changes to your site .
7. Plan Your Next Steps
If you've come here, you must have learned how to open a blog, opened your blog site and posted it on the internet. However, things do not stop there. There are a few more steps to consider before proceeding.
First, consider what range you will be writing and exactly what to write about. If you're just writing for fun, maybe that won't be all that important. However, if you are writing for professional purposes, you may want to create an editor calendar . Here you can keep track of your content ideas, schedule your posts and make sure you meet your blog goals.
You should also consider the performance of your blog. This means it should load quickly and look good on every device. If you have already chosen a responsive theme, your site will look good on all devices. You can also test the speed of your website with online tools like GTmetrix . Most sites use caching plugins like WP Super Cache. In short, this plugin stores a version of your site on the visitor's computer. Thus, loading time is shortened when the visitor visits your site again. In this way, how much time your website loads is greatly shortened.
You may also want to consider the security of your site. You may consider installing an SSL certificate for your site . SSL certificate is essential for e-commerce sites and protects your visitors' data from hackers.
Finally, you may want to think about how to attract visitors to your blog. The most powerful ways to attract visitors are SEO, social media and email marketing. To integrate this into your blog, be sure to apply social media sharing buttons from your posts to Yoast SEO's post suggestions, and use a service like MailChimp to set up an email subscription .
Now you know how to open a blog and you have set up and published your own WordPress blog site. We look forward to seeing how you set up sites!
Result
Starting your own blog can be a bit difficult, especially if you're new to the platform or don't know how to open a blog. Following a comprehensive guide like this can help you make sure you don't miss anything.
This article will be a good start for you to learn how to open a blog with WordPress. It started with why you should blog, with the benefits of WordPress. Then we talked about WordPress' community and its open source structure. Then we showed you how to set up your own WordPress blog. Finally, we touched on seven steps to publish your site.
Don't you know how to open a blog? Do you have questions about how to open a blog or open your own blog? Let us know in the comments below!